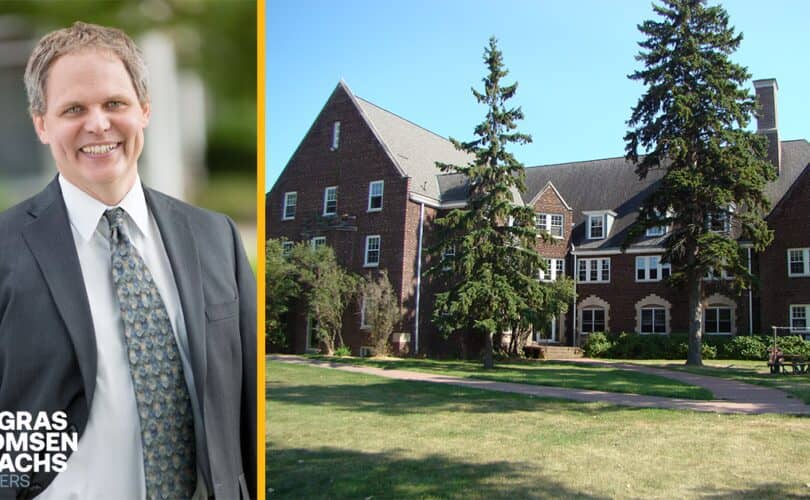 Gingras, Thomsen and Wachs Partner Paul Kinne has filed a lawsuit in the Ashland County Circuit Court against Northland College for negligence as it relates to the continued sexual assault of a student by a faculty member.
Over the course of her freshman and sophomore years (2017-2019) at Northland College, Plaintiff Angel Swann was subjected to assault by Professor Dennis Debungie – who was hired despite having a publicly available criminal history consisting of First-Degree Burglary, Driving While Intoxicated and Registration of Predatory Offenses.
Swann and her mother filed multiple complaints with the college, but the allegations were dismissed and no protection was offered.
"Colleges have a responsibility to protect their students from coercive sexual relationships initiated by faculty," said Kinne. "That responsibility begins at the time of hiring by conducting thorough background checks on prospective faculty members. That responsibility continues once a faculty member has begun his or her employment. A college must supervise and monitor its faculty members, and it must provide an effective complaint system so students have somewhere to turn."
Swann first met Debungie as a student in his Native American Studies class during the 2017 fall semester. At the start of the spring semester, Debungie asked her, along with another female student, to serve as his student assistants. He also instructed his students to add him as a friend on Snapchat.
During her time as his student assistant, Debungie increasingly acted inappropriately toward Swann. He took her on multiple unsupervised trips off campus, some out of the state, where he coerced her into sharing hotel rooms – and often the same bed.
This inappropriate and predatory behavior eventually escalated to include unwanted sexual advances, violent intercourse resulting in bruises on Swann's arms and neck and illegal recording of sexual encounters without Swann's knowledge. He additionally began stealing money from Swann that she earned as part of her internship work.
During the time of the abuse, after an initial complaint was filed and dismissed, Northland College promoted Debungie to manager of the Indigenous Culture Center – a coveted position that represents the college's founding principle to advance Native American studies.
On October 23, 2018, Swann's mother submitted an anonymous email to faculty members Hal Haynes, Leslie Aldrich and Rita Muller – the second complaint. In the content of the email, she detailed the inappropriate relationship that Debungie was maintaining and included his aforementioned criminal history.
The Director of Human Resources, Rita Muller, responded to the email stating that Northland College would investigate the situation. The college once again failed to investigate, and Muller abruptly quit her position soon after the email exchange.
A third complaint was filed by Swann in December of 2018. When the school nurse informed the Dean of Students and Title IX Coordinator, Hal Haynes, about the situation, he responded, "I don't want to deal with that right now."
Despite Haynes's inaction, the school nurse sent Swann to the Title IX Secretary, Dawn
Revard, who gathered preliminary factual information and commenced an investigation.
In December of 2018 Northland College informed Ms. Swann that the college would place Debungie on paid administrative leave and issue a no-contact order. After Northland College imposed the no-contact order, Debungie continued to call, text and message Swann.
As a result of the prolonged abuse, Swann developed PTSD, depression and anxiety, while also exhibiting OCD behaviors. Her college education was also severely impacted by Debungie's conduct – causing her economic damage.
These physical, emotional and psychological injuries were directly caused by the negligent
conduct of Northland College in failing to exercise reasonable care in hiring, training
and supervising Debungie so as to ensure the safety of Northland College's students.
"In this case, Northland College failed Angel Swann," Kinne said. "It is our hope that justice will be served in the end, and that Angel will be fairly compensated for her ordeal that Northland College could have prevented."
Kinne and our entire team at Gingras, Thomsen and Wachs Lawyers are committed to standing with Swann and fighting for the justice she was continually denied by Northland College.